TALBOT TO TAKE ON THE GULF 12 HOUR OF ABU DHABI WITH JORGE LORENZO
With only one final endurance race in the calendar to close out the racing year in 2014, Brisbane driver Liam Talbot is making the most of his opportunities with Kessel Racing. Talbot has been invited to drive with multiple World Champion, Movistar Yamaha Moto GP rider Jorge Lorenzo in the Gulf 12 Hour endurance race to be held in Abu Dhabi next month driving a Monster Energy Drinks backed Ferrari 458.
The opportunity to race at the Yas Marina Circuit alongside Lorenzo and the other team drivers proved to be too good an opportunity to pass up. Racing in the 458 GT3, this will be Talbot's third race with Kessel this year as Lorenzo steps into the Ferrari for the first time.
Building towards his ultimate goal of competing at LeMans in LMP2, Talbot has taken to Europe in 2014 competing at the Nurburgring 24 Hour, Spa 24 Hour, Barcelona 24 Hour and Nurburgring 1000 developing his endurance racing experience, which will prove valuable as he takes on the Yas Marina circuit for the very first time.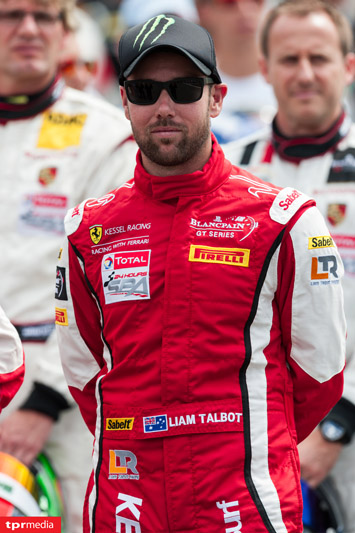 "It's a real privilege to race again with Kessel Racing and partner with Lorenzo, as it's his first time racing in the 458, I'm looking forward to seeing what we can achieve together! Kessel Racing run an excellent program and the 458 GT3 is an incredible race car. It has the speed and the aero to be aggressive when you need to, but you can still hold a great rhythm to pace out these longer endurance races. With the Gulf 12 Hour being run in two 6 hour stints, it effectively becomes very near to two sprint races and will allow for more aggressive tactics during the race, with a three hour break separating the 6 hours of day racing then another 6 hours under lights that evening.
I'm excited to get on track and see what we can achieve!
David Hardman (Team Director LTR) "This is a massive opportunity for team LTR, we've had a solid year of racing as we tackled an international schedule, clocking up more endurance racing miles towards the ultimate goal of LMP2 at LeMans. The GT3 endurance racing calendar in Europe has provided the perfect training ground for Talbot and his improvements have certainly caught the eye of team boss Ronnie Kessel, with Talbot being offered the drive to partner with Lorenzo. It will be a perfect way to wrap up the year as we prepare for season 2015."