Second consecutive pole for Talbot & Martin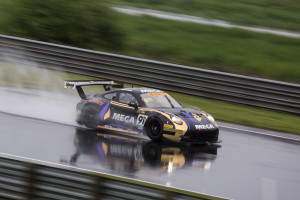 For the second Australian GT Endurance Series round in succession, the MEGA Racing Porsche of Liam Talbot and John Martin will start from pole position.
The pair in the Walkinshaw GT3-prepared Porsche were the final car on track for the Top 10 Shootout this afternoon at Hampton Downs in New Zealand and Martin rocketed to the Pole.
Proving the consistency they have shown throughout the Australian Endurance Series campaign is no fluke – Talbot was fastest in the first qualifying session – only to have Martin back that up by topping the second session – the duo scoring maximum qualifying points from this weekend.
Currently second in points with tomorrow's race and the Highlands Park event in two weeks' time – for MEGA Racing to gain as many points as possible over the Series leaders is crucial.
Tomorrow's 500 kilometre/200 minute race is expected to take place in dry conditions at the outer Auckland venue.
It will be broadcaat live on Fox Sports 7 in Australia, TV3 in New Zealand and livestreamed to other markets on www.australiangt.com.au.
Liam Talbot Racing is backed by Australia's newest Petroleum company, MEGA Limited and WashIt Australia Mobile Truck Wash. The effort across Australian GT and the Australian GT Endurance Championship draws further support from Walkinshaw GT3 Sponsors Morris Finance and Urban Maintenance Systems.
The pair both had strong showings in last year's Hampton Downs event – Martin finishing second for Walkinshaw GT3 in the Porache and Talbot fourth in another car. Here's hoping that form can continue tomorrow!!
QUOTEBOARD – LIAM TALBOT:
"Fantastic result for MEGA Racing and Walkinshaw GT3 – we topped every single session today.
"It was a great job by John Martin to get the setup right and I couldn't be happier for the team.
"Crucially, we'll start on the inside into turn one and should hold onto that into turn two. Turn one creates a bit of excitement on the exit, so we should be able to hold onto it on the inside.
"We're going to go out there and do our own thing and hope we get the result!"