Talbot and Martin aim for enduro success at Happy Hunting Ground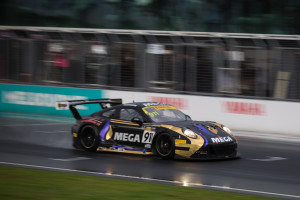 Liam Talbot and John Martin head to this weekend's second round of the Australian Endurance Championship at Sydney Motorsport Park full of confidence they can build on their opening round in the MEGA Racing Porsche on a track familiar to them both.
Current Australian GT Championship leader Talbot tasted a great deal of success on the Western Sydney circuit during his maiden season of motorsport in the Radical Australia Cup, securing several wins on his way to the Championship.
Meanwhile, for Martin he has fond memories of the 3.93km circuit taking the A1 Team Australia car to fifth in the final A1 Grand Prix held in Australia – his best result that season, as well as securing top results in Junior Formulae on his way to an extensive international career.
The pair are looking for redemption at the 501km second round of the Championship, which will be held in conjunction with the Red Rooster Super Sprint Virgin Australia Supercars event.
The Queensland-based duo had a difficult run at the opening round of the GT-inspired endurance racing Championship in awful conditions, finishing sixth, however enter Sydney fifth on points.
A very successful test at Sydney Motorsport Park last week has seen Walkinshaw GT3 tune the MEGA Racing Porsche 911 GT3-R to be a fast racecar and ready for this weekend's 129-lap stoush.
Practice and Qualifying will take place on Friday morning with the race to begin at 7:35am Saturday morning. The grid will be formed as an average of the two qualifying sessions.
Qualifying and the race can be caught on Fox Sports' live coverage of the Virgin Australia Supercars Championship.
In 2017, Liam Talbot Racing is supported by Australia's newest Petroleum company, MEGA Limited, along with WashIt Australia Mobile Truck Wash and Walkinshaw GT3 sponsors, Urban Maintenance Systems and Morris Finance.
QUOTEBOARD – LIAM TALBOT:
"We're extremely well prepared for this weekend, the team has worked hard on getting the MEGA Racing Porsche into a position where we can put in a strong showing and continue our good form from the GT Championship," said Talbot.
"The test we held at Sydney Motorsport Park last week saw us do a great deal of work on the setup and getting John more consistently comfortable in the car and I am confident we ticked both boxes on this during the course of the day. Both of us have good memories of Eastern Creek back in other parts of our careers, so we're pretty excited by the weekend.
"We have a deficit to make up in the Championship perspective – but with three rounds remaining there is still plenty of racing to be done. We won't focus too much on that but just look to be maximising every pointscoring possibility. The MEGA Racing team has been getting the job done in the Australian GT Championship – and it won't take too much to get it going here.
"We're born ready and good to go this weekend!"
SCHEDULE
Friday, August 18
08:00am-08:25am – Practice – 20 mins
10:50am-11:10am – Qualifying 1 – 20 mins
1:45pm-2:05pm – Qualifying 2 – 20 mins
Saturday, August 19
7:35am-11:10am – Sydney Motorsport Park 501 – 129 Laps
EVENT INFO
Circuit: Sydney Motorsport Park, Brabham Drive, Eastern Creek
Length: 3.93KM
Tickets: www.supercars.com/sydney
TV Broadcast:
Friday: 10am-4pm (Fox Sports 506)
Saturday: 7:30am-6pm (Fox Sports 506)
2017 Australian GT Championship Calendar:
1. Mar 2 – 5 Clipsal 500, Adelaide, South Australia – 4th
2. Mar 23 – 26 Australian Grand Prix, Albert Park, Melbourne, Victoria – 3rd
3. May 5 – 7 Perth Super Sprint, Barbagallo, Western Australia – 1st
4. Jul 7 – 9 Townsville 400, Townsville, Queensland – 3rd
5. Sep 15 – 17 Sandown 500, Sandown Raceway, Victoria
2017 Australian Endurance Championship Calendar:
1. May 26 – 28 Phillip Island, Phillip Island, Victoria – 6th
2. Aug 18 – 20 Sydney Motorsport Park, Sydney Motorsport Park, NSW
3. Oct 27 – 29 Hampton Downs, Hampton Downs, New Zealand
4. Nov 10 – 12 Highlands 501 Highlands Park, Cromwell, NZ
Further Sources of Information:
Liam Talbot Racing
www.liamtalbotracing.com
www.facebook.com/liamtalbotracing
www.instagram.com/liamtalbotracing
MEGA Limited
www.megaltd.com.au
http://www.facebook.com/MEGAracingAU/
http://twitter.com/MEGARacingAU
http://www.instagram.com/MEGARacingAU/
Walkinshaw GT3
http://www.facebook.com/WalkinshawGT3/
http://twitter.com/WalkinshawGT3
http://www.instagram.com/walkinshawgt3/