Talbot and Martin show pace in Australian Endurance Championship Opener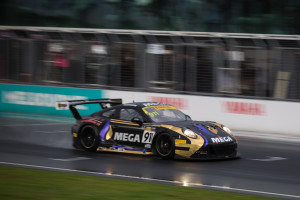 Liam Talbot and John Martin have brought the MEGA Racing Porsche home in sixth position in the opening round of the Australian Endurance Championship at Phillip Island this afternoon, leading a fair portion of the 500km race and scoring the fastest lap.
Conducted in challenging weather conditions on the Island, Talbot started the race and built a lead over the AMG of Peter Hackett, the pair advancing way from the field in the opening stanza before the inclement weather set in. At one stage, Talbot had lodged a 20 second lead.
A minor compulsory pitstop issue delivered the MEGA Racing duo an infringement which forced them to serve a penalty equal to a full timed pitstop.
Whilst this dropped them a lap behind the lead combinations, the pair teamed up to make the best of the situation with the long term Championship in mind.
Any real chance to try and make amends was made difficult by the weather conditions that presented themselves, visibility becoming low on occasion due to rain, which triggered a litany of safety cars during the course of the 500km race.
Although the race didn't yield what the Walkinshaw GT3 prepared team was looking for from the opening round of the Series, the positives that can be drawn from the weekend is the speed shown by the Porsche 911 GT3-R – qualifying on the front row and establishing the fastest lap of today's race.
The next event on the calendar for Talbot will be the Australian GT Championship at The Virgin Australia Supercars Championship Townsville event in July.
Liam Talbot Racing is supported by Australia's newest Petroleum company, MEGA Limited, WashIt Australia Mobile Truck Wash and Walkinshaw GT3 sponsors, Morris Finance and Urban Maintenance Systems.
LIAM'S LOWDOWN – AUSTRALIAN ENDURANCE CHAMPIONSHIP ROUND 1:
"Overall there are a lot of positives that can be taken from this weekend although it didn't deliver what we'd hoped.
"To qualify the MEGA Racing Porsche on the front row and set the fastest lap is something we can draw from. I'd built up a strong lead and it was looking good until we were handed the penalty.
"I was incredibly impressed with the way John and the team rallied to make the best of the situation presented to us – as a team.
"I think we've made positive gains with the racecar and drawing on John's experience has really helped that. It is a long Championship and it wasn't as disastrous as it could have been given the weather and the unusual situations that can present at times – we aren't out of the hunt and that is a positive.
"Our eyes are now forward towards the next race now which will be Townsville in July and we can continue our push towards the Australian GT Championship. Bring it on!
"It is great to have the continued support of the guys from MEGA Racing, it means so much to our entire program and we want to continue to deliver for them and all the supporters of our team."
2017 Australian GT Championship Calendar:
1. Mar 2 – 5 Clipsal 500, Adelaide, South Australia – 4th
2. Mar 23 – 26 Australian Grand Prix, Albert Park, Melbourne, Victoria – 3rd
3. May 5 – 7 Perth Super Sprint, Barbagallo, Western Australia – 1st
4. Jul 7 – 9 Townsville 400, Townsville, Queensland
5. Sep 15 – 17 Sandown 500, Sandown Raceway, Victoria
2017 Australian Endurance Championship Calendar:
1. May 26 – 28 Phillip Island, Phillip Island, Victoria – 6th
2. Aug 18 – 20 Sydney Motorsport Park, Sydney Motorsport Park, NSW
3. Oct 27 – 29 Hampton Downs, Hampton Downs, New Zealand
4. Nov 10 – 12 Highlands 501 Highlands Park, Cromwell, NZ
Further Sources of Information:
Liam Talbot Racing
www.liamtalbotracing.com
www.facebook.com/liamtalbotracing
www.instagram.com/liamtalbotracing
MEGA Limited
www.megaltd.com.au
http://www.facebook.com/MEGAracingAU/
http://twitter.com/MEGARacingAU
http://www.instagram.com/MEGARacingAU/
Walkinshaw GT3
http://www.facebook.com/WalkinshawGT3/
http://twitter.com/WalkinshawGT3
http://www.instagram.com/walkinshawgt3/